Fibre Connectivity Is No Longer Considered a Nice To Have
Critical. Reliable. Scalable
Our Enterprise Grade Ethernet service offers the highest network availability with definitive quality of service (QoS) guarantees. As long as the suitable infrastructure is accessible, we've got you covered across metro and regional Australia. Our services are MEF CE 2.0-certified by global industry forum MEF.
Hard to intercept and easy to configure, Vertel's Enterprise Grade Ethernet services take the best of what is available in the market and integrate it with our own network infrastructure, creating a hybrid approach to service delivery.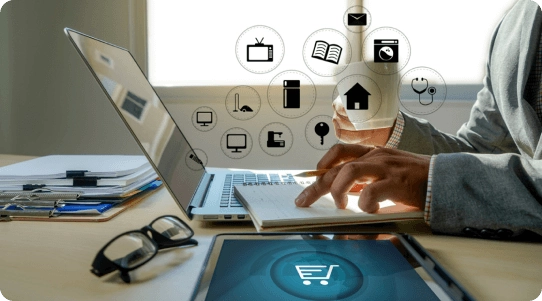 Vertel Delievers Assured and Secure Connectivity Our hybrid approach to service delivery makes Vertel's Ethernet solutions ideal for organisations that require higher availability, better application performance, more customer-centric service management, and more complete network security.Our MEF CE 2.0-certified services are provided with clear and simple QoS performance guarantees around packet loss, latency, and jitter.+F21:H22
Vertel Enterprise Ethernet is Available With Different Service Grades to better fit your business needs
All services can be offered in layer 2 (point to point or point to multi point) or layer 3 (Internet)
PRODUCT
ETHERWAVE
NETCONNECT
SOLUTION
VERTEL WIRELESS TECHNOLOGIES
NBN™ ENTERPRISE ETHERNET
THIRD-PARTY FIBRE
INTERNET
DELIVERY
Microwave-based IP Transit and Ethernet.
nbn™ Enterprise Ethernet is a fibre network that delivers business-grade internet and voice services, delivered over the national broadband network (NBN).
Ethernet network connectivity delivered over Vertel Wireless Technology or third-party fibre infrastructure with an MPLS Core.
Enterprise grade internet access delivered over Vertel Wireless Technology or third-party fibre infrastructure with an MPLS Core.
BENEFITS
A scalable service that can be exclusively to each customer.
Highly reliable, premium service with a target availability of 99.95%.
Business grade plans and options to help you run your business efficiently and at speed.
Your business will be guaranteed 99.95% availability by connecting to the NBN network.
Designed to meet customer demands for flexibility and reliability.
Our unlimited and unmetered 'flat-rate' usage of high-speed, high-capacity Internet service.
Next-generation wide area networking and mission critical application delivery
nbn™ Enterprise Ethernet gives your business a enterprise grade connection that delivers high levels of uncontended bandwidth to support business critical applications
1
Super fast, symmetrical speeds of 10/10Mbps up to 1,000/1,000 Mbps (1Gbps)
2
High-performance 99.95% uptime network availability to keep you connected
3
Full support with assurance that your business will stay online
4
Capability for bandwid thintensive applications
5
Critical connections to the cloud
HERE'S 

HOW

 YOU CAN GET IT:
Vertel has partnered to provide seamless access for metro, regional and remote customers
our enterprise solution is built on the nbn™ Enterprise Ethernet, which is the only business-grade product provided by the nbn™
we've ensured you can get maximum coverage throughout Australia, including regional and remote areas.
FREQUENTLY ASKED QUESTIONS
What is carrier ethernet?

Carrier Ethernet is a transparent service that provides a robust and reliable symmetrical connection for business in metro, remote or rural locations. It can be transmitted above, below, or around any physical cabling infrastructure. Vertel provides ethernet services with definitive quality of service (QoS) guarantees.
What is carrier extension in ethernet?

When a station transmits data, it is converted into electrical signals. If a station is in the middle of the Ethernet LAN, then it can only transmit to a limited number of devices.

Data cannot travel farther than this range.

A carrier extension provides its own radio-frequency signal that sends the data from one device to another connected device within its range.
What is MEF Ce 2.0?

The MEF Carrier Ethernet 2.0 (CE2.0) programme recognises the expertise and understanding of telecommunications professionals in relation to the MEF's definition of Carrier Ethernet services.