Reducing risk and complexity with a managed security service
---
We have seen great benefits by implementing managed security service at Vertel. The service we have implemented today for our own internal networks is the same one we sell to our customers.
The Challenge
Vertel runs a substantial fixed broadband network and mobile network around Australia and a large network operations centre (NOC) based in its Sydney headquarters. These networks form the basis of the services it provides to its customers in the government, enterprise and service provider segments. In 2015, Vertel's own network security system, however, needed overhauling. Vertel decided to undertake this challenge, using the opportunity to build our own expertise in network security so we can better serve our customers.
Our Approach
Vertel considered a range of options, including upgrading or replacing the existing hardware-based firewall, with an option of self-managing the firewall hardware. Another possible approach was a fully- managed next generation firewall (NGFW), a cloud-based system that could manage network traffic based on applications, users, content and devices, and which would allow IT manager to express their network security policies as rules for individual users
A key requirement of the new service would be an ability to differentiate between its internal network and its customer facing operations network. "We wanted to secure our corporate LAN and separate it from our operational network (NOC), and also gain expertise around network security so we could offer that to our customers." said Michael Crawford, Vertel's Business Systems Manager. "If it's not appropriate for us to use in our business, or if it doesn't meet our standards, then why would it be right for our customers?"
The Solution
Vertel chose an NGFW solution from Palo Alto Networks, sold and supported as a fully-managed service by Vertel in Australia in partnership with a security partner. Though the cost was greater than the existing physical firewall, the advantages of having a cloud-based system made it worthwhile, in particular how it is delivered as a fully-managed service.
Vertel implemented the system over 6 months. Crawford said: "As well as building something for ourselves, we were developing proof points for a service we could deliver to the market. That is how our Netconnect Private service was conceptualised, developed and launched to the market."
Single service to secure multiple sites and networks.
Secure and controlled access to Internet and applications.
Centralised policy management across sites, networks and users.
No upfront hardware or software costs.
Fully scalable platform to cater to growing business needs and bandwidth requirements.
Monthly seurity reporting and quarterly security reviews.
Choice of support grades to suit to customer's business needs.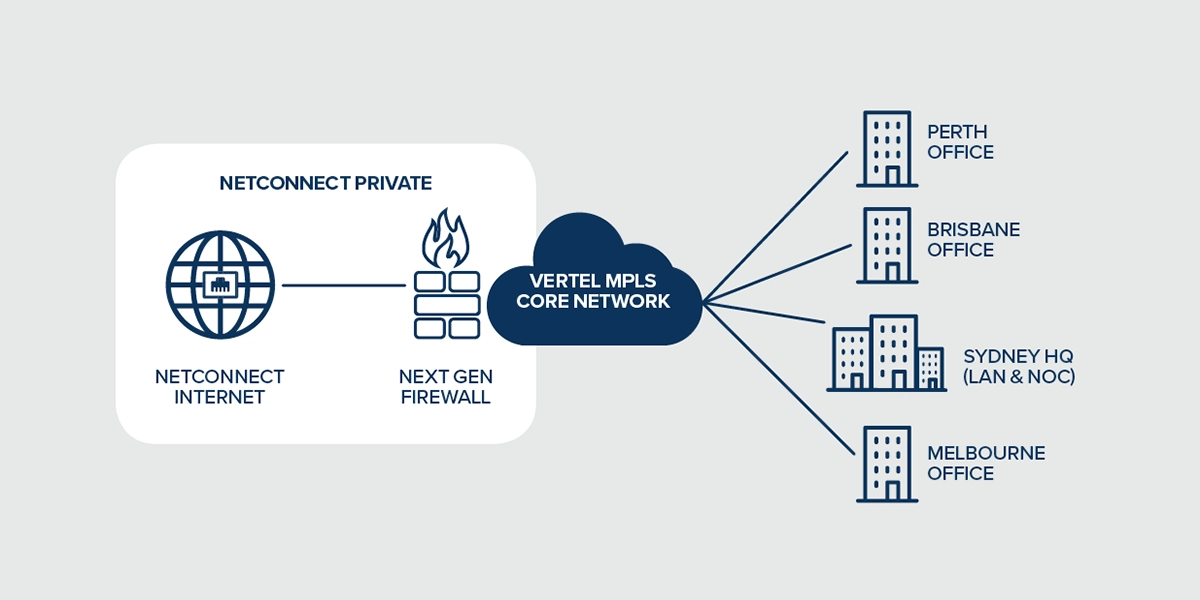 The Results
Vertel is now connected through the cloud to Palo Alto's firewall. We are able to differentiate between our LAN environment and our NOC infrastructure and the system provides far superior VPN. This enables remote connections and tracking and monitoring of remote staff.
Another key advantage of the managed solution is that there is only a singly monthly payment, rather than upfront costs for hardware, software, licenses, and security expertise and training, which are a significant expense. Having network security as a managed solution provides other great advantages too, including round-the-clock support from security experts if and when actual problems occur and improved reporting. If you manage it yourself you have to employ a dedicated security expert, who can become a single point of failure.
Now, our customers can also have the same level of control with this service. Click here to read more about our Netconnect Private service.