Next Generation Public Safety
---
Progressive local government Coffs Harbour City Council sought to overhaul it's existing two way radio communication system to a digital P25 network. This new system would enable interoperability between multiple emergency service authorities as well as provide greater coverage to the entire region.
The Challenge
The council decided to upgrade their existing two way radio network to a digital format. Utilising as much existing infrastructure as possible, the council needed a solution which would provide comprehensive network coverage and integrate multiple protocols into a single system.
The council also needed interoperability with other public safety networks and wanted the ability to selectively call and talk to individual radios, for more effective one-to-one radio conversations.
Coffs Harbour City Council required a network that would:
Address regulatory directives from ACMA and North Coast District Councils.
Enable greater interoperability between Council, state and federal Agencies.
Have VoIP and Video capabilities.
Be fully managed and highly available.
Our Approach
Experts in two way radio for over 40 years, Vertel knew a P25 solution would be able to meet all of the council's requirements. P25 has been the standard of choice for public safety agencies for a number of years due to its high level of interoperability.
Vertel's extensive experience in fixed wireless networks meant Vertel was able to provide a dedicated Layer 2 backhaul solution for the entire two way radio network. Provided as a fully managed service the solution works to strict SLA's and is proactively managed from Vertel's Coffs Harbour office and it's national operations centre.
Throughout the design process Vertel worked closely with the council to upgrade rather than replace as much infrastructure as possible, ensuring a highly cost effective solution.
The Solution
Vertel upgraded Coffs Harbour City Council's existing analogue two-way radio network to a P25 digital solution. In order to provide coverage across the entire region Vertel tapped into its portfolio of exclusive sites to add to the councils existing network. The five key sites that made up the network were linked using a Layer 2 Ethernet connection to ensure prioritisation of key traffic.
Upgraded existing radio systems to P25 APCO two-way radio network.
Addition of new sites for 100% coverage.
Integrated Omnitronic SIP enabled management systems and IP gateway.
Delivered using deidicated Layer 2 Ethernet works.
100% coverage of the entire council ward area.
24/7/365 support.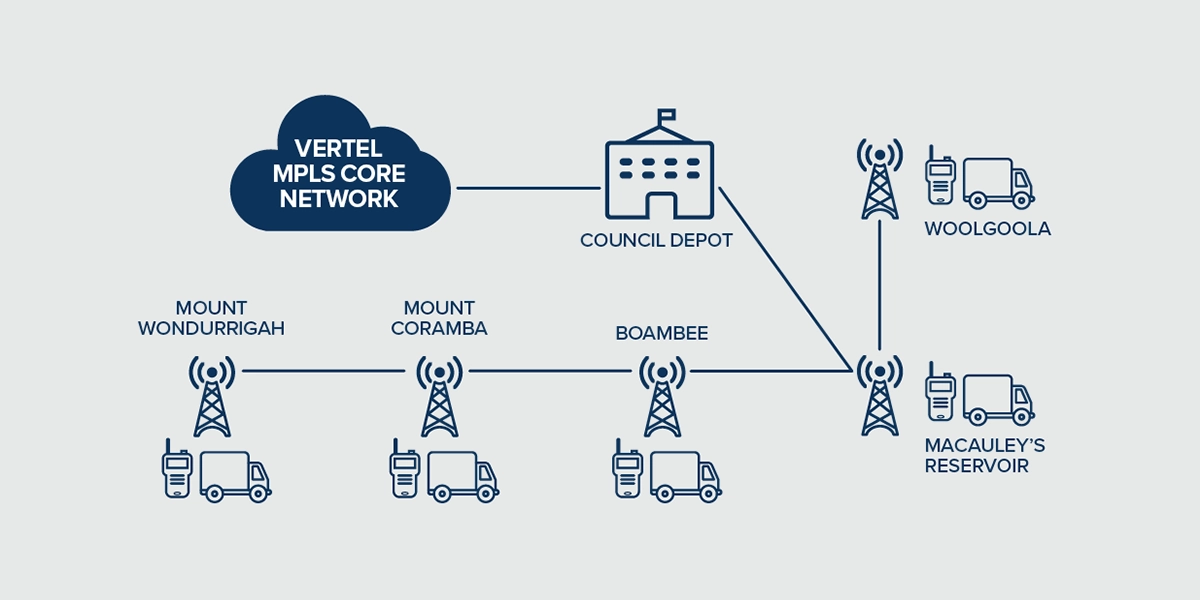 The Results
The completed project has provided the council with significant economies of scale through leveraging common infrastructure. The new network provides fully integrated radio and telephone communications while successfully bringing a next generation network to this regional community.
The P25 standard has successfully enabled interoperability between different services. As Coffs harbour City Council CIO Andrew Sales noted "Coffs Harbour city Council has been provided with an Emergency Radio Network that serves as a model for all other local Government bodies". His words were proven true in 2011 when Armidale Dumaresq Council approached Vertel for a P25 solution based on the Coffs Harbour network.
Since the project commenced in 2008 Coffs Harbour City Council and Vertel have worked closely together, partnering on a number of projects, such as the Coates Hire Rally Australia motorsports event, to provide maximum value to the Coffs Harbour community. Vertel's ability to provide high capacity, uncontended backhaul to the council's dark fibre network has also had a significant impact on the council's day to day operations.